COMING FALL 2021
The PFS Health & Wellness Center will be equipped with a 5,720 square foot gymnasium with basketball goals and a rock climbing wall, as well as a full-service kitchen, and a fitness room for yoga and meditation. The center will significantly improve the overall wellbeing of the youth at Pathway Family Services, as it will be a safe, secure location for exercise, holding group therapy sessions, large family events, among many other uses.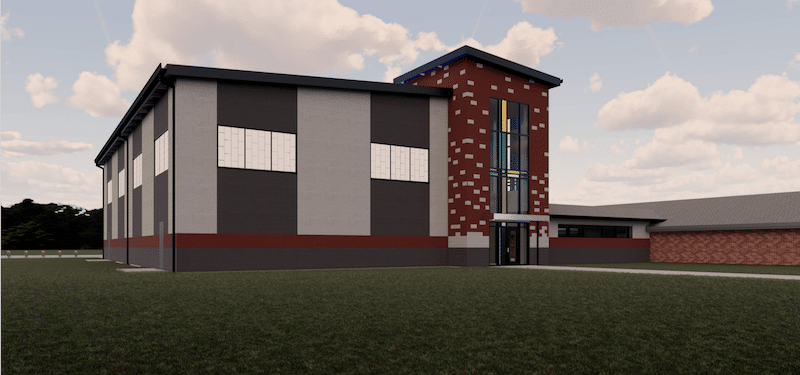 The Need
According to recent studies from the University of Minnesota, physical activity brings "a sense of purpose and value, a better quality of life, improved sleep, and reduced stress, as well as stronger relationships and social connectedness." Physical activity has been shown to improve the ability to focus on and retain important information and filter distractions, perhaps through an increase in available blood or energy to the frontal cortex and the memory-forming hippocampus. In other words, exercise also helps children think and enables them to make better decisions.
Our Psychiatric Residential Treatment Facility provides a 24/7 comprehensive residential treatment program for children and youth with significant emotional, behavioral, or substance abuse difficulties. These children need a physical outlet to thrive. Group therapy and individual time with our residents create a safe environment for them to work through problems and find the tools to help them succeed in life. Our caring therapists tailor therapeutic strategies to our resident's individual needs. These youth can be easily triggered when in a public atmosphere, so the need for a private health and wellness facility is paramount to their well-being.
We have a full-service kitchen and a spacious dining hall. The dining hall becomes a multi-purpose room that is used daily. When not hosting group therapy, it becomes a place where residents can play ping pong, and socialize with peers and staff. But, due to high demand, this multi-purpose dining room is being outgrown at a fast pace.
Our day rooms give our residents the opportunity to socialize with other peers, watch television, read, or do homework in a living room like setting. When possible, our staff encourages our residents to take advantage of time outdoors to absorb fresh air, sunshine, and exercise. Unfortunately, the weather in Kansas can be unpredictable, and therefore, having an indoor space sufficient for exercise, group therapy and sports is imperative to fulfilling our mission.
The proposed upgrades and renovation of the existing 30+ year-old facility will ensure improved safety and sustainability while directly impacting the PRFT's program delivery and its youth participants. Most of the current engagement areas cannot accommodate more than 10 youth at one time, thus limiting the organization's program capacity and ability to grow alongside the populations it serves. There are also risk factors involved when mainstreaming the high needs children and youth at a local YMCA. By making the PRTF more state-of-the-art and thus, a better learning environment, we will reach even more youth with expanded program offerings and increased program staffing.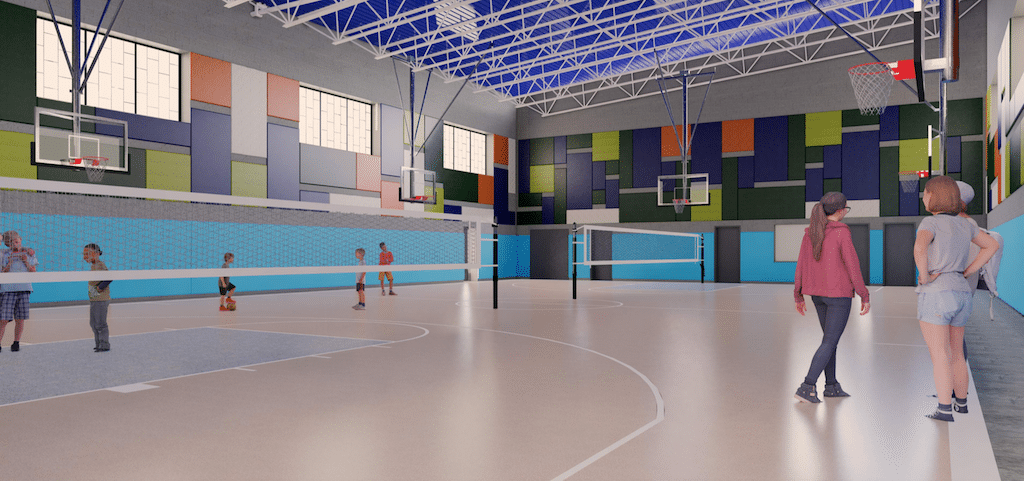 Gymnasium:
5,720 SF
High School Size Court
Basketball, Rock Climbing, Soccer
Gym Divider
Projector and screen
Alternative uses (training, family day, movie night, drama therapy)
Access control
Kitchen:
230 SF
Serving meals, light prep Refrigerator, range, sink Janitor sink
Access control
Service entrance
Restrooms:
400 SF
Meets Min. fixture count Ligature resistant
Space for back-up shower Storm shelter
Fitness Room:
260 SF
Yoga, meditation, fitness Calm & relaxing environment Access Control
Storage:
161 SF, space for:
Gym & fitness room equipment Tables & chairs
Stage
Rock Climbing mats
IT closet
Thank you to our Partners:
The Sunderland Foundation